Marshall High School

In Memory
Bobby Alexander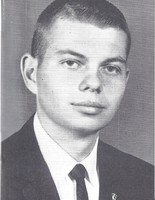 Robert Wallace "Bob" Alexander
Birth:

Jul. 1, 1946

Death:

May 14, 2012


Robert Wallace "Bob" Alexander

Dates:
Birth date: July 1, 1946
Death date: May 14, 2012


Services for Robert Wallace "Bob" Alexander, 65, of Canton, Texas, are scheduled for 2 pm Saturday May 19, 2012, at Eubank Funeral Chapel with Rev. Keith Broyles, Rev. Mike Toland, Rev. Grant Barnes officiating, under the direction of Eubank Funeral Home, Canton.

Burial will be in DFW National Cemetery, Dallas, Texas.

He passed away Monday May 14, 2012 in Tyler.

Mr. Alexander was born July 1, 1946 in Marshall, TX, to Walter Lee Alexander and Vivian Lucille Sellers Alexander.

He was a member of Wallace United Methodist. Bob graduated Marshall High School in 1964. He received his Associates Degree in Electrical Engineering from Memphis State Technical Institute in Memphis, TN.
He joined the Navy in September of 1965 and spent 14 years working with the Polaris Poseidon Deterrence Patrol. After leaving the Navy in 1979, he joined the Texas National Guard and retired in January 1988 as a Chief Signal NCO. In 1979 he also began working for GTE and retired in 1994. From 1994 to 2003 he sold Real estate.

Bob married Ava Nell Flowers Alexander on Sept. 3, 1966 in El Centro, CA. They were married for 42 years before she passed away in 2009. He then married Sherley Baugh Alexander on Feb. 22, 2011 in Vicksburg, Mississippi.

Bob was a former member of the First United Methodist Church in Canton where he served on numerous committees and held positions. He was the first President and Executive Director of the CEDC Board. He served two terms on the Canton City Council (1990-1992 and 1994-1996). Bob was a longtime Mason. He was raised on April 20, 1973 in the Marshall Lodge No. 22. He was also a member of the Scyene Lodge No. 295, Pine Lodge No. 203, Edgewood Lodge No. 870 and the Castillian Lodge No. 141. Bob received two Golden Trowel awards, L.I.F.E. Administration, L.I.F.E. Operations, L.I.F.E. Introduction and A.L.L. Education Certification. He was District Deputy Grand Master 2008-2009. Bob was also an active member of the Order of the Eastern Star Canton Chapter 667 where he served as Worthy Patron 3 times. He was also an active member of the Lions Club where he served as President in 1994. Bob had lived in Canton since 1987.

Surviving are Wife, Sherley Baugh Alexander of Canton, TX, Daughter, April Vivian Alexander McKinney & Joel Brown of Canton, TX, Son, Walter Luther Alexander of Canton, TX, Step Daughter, Caren Cheatham of Edgewood, TX, Step Son, Brent Cheatham of Carrollton, TX, Brother, Walter David & Karen Alexander of Allen, TX, Sister, Sherry Jackson of Marshall, TX, Sister, Jan Morris of Sulphur, LA, Step Mother, Mary Frances Turner Alexander of Marshall, TX, 7 Grandchildren: Brandi Leigh McKinney, Codi Huff, Jami Huff, Dustin Cheatham, Thomas Cheatham, Amanda Cheatham and Dakota Brown, Numerous Nieces & Nephews.

Robert was preceded in death by his first Wife, Ava Nell Flowers Alexander, and his Parents.