Marshall High School

In Memory
Judy Elliott (Cadenhead)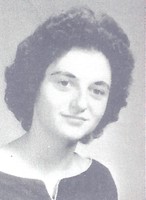 Judy Elliott Cadenhead
Birth:

Feb. 27, 1945

Death:

Apr. 27, 2007


MARSHALL - Memorial services for Judy Cadenhead, 62, of Marshall, will be 2 p.m. Monday, April 30, 2007, at Eastern Hills Church of Christ with H.L. Shirey officiating. Arrangements are by Sullivan-Heaster Funeral Home.

Ms. Cadenhead was born February 27, 1945, in Marshall, and she died April 27, 2007, in Shreveport, La. She was a certified peace officer.

Survivors include her brother, Jerry Elliott.