Marshall High School

In Memory
Celuda Goode (Weems)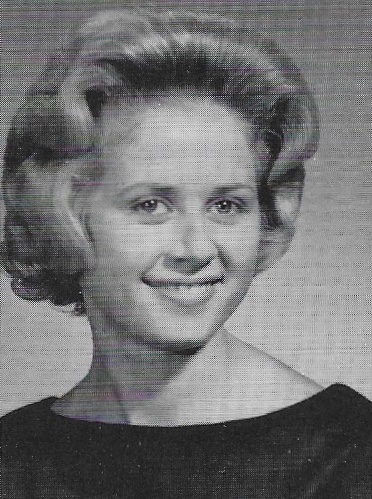 Celuda Irene Weems was born July 2, 1946 to Arthur and Annie Goode in Marshall, TX. On June 28, 1968 she married Thomas Linn Weems. They were blessed with 47 years of marriage before his passing in 2015. She passed away on Tuesday, May 14, 2019 at her home in Waskom, TX.
She was employed in various accounting and administrative positions, which included Thiokol, Harrison County, and Weatherford. She was of the Baptist faith. Celuda enjoyed her flowers, bird watching, skating, camping, trips to the lake, and the penny slots at the boats. Most importantly she had an unconditional love for animals and her many fur babies throughout the years.
A memorial service will be held, Friday, May 17th, at 11am in the chapel at Downs Funeral Home with visitation for family and friends beginning at 10am.
She was delighted with holidays especially with Christmas and always had beautiful Christmas trees lovingly decorated. She was especially proud of her grandson, Chris, who became a Texas Ranger in January, and grandson, TJ, who developed a software program to assist CPAs.
Her family would like to give special thanks to Dr Adam Yu, Dr Terry Gerber, and the Hearts Way Hospice staff; and they appreciate her amazing friends that assisted when her health began to fail; Rita Trimby, Leana Westergaard, family and friends; and they are eternally grateful to her devoted sister-in-law, Judy and husband Vic, who spent so many hours taking care of her.
Surviving Celuda are, son Michael and wife Aurelia, grandson, Christopher Cash and wife Allison and great grandchild, McKenzie Cash of Conroe TX, grandson, Thomas (TJ) Weems of Conroe, TX; loving sister Elease Davis of Marshall, TX ; brother Martin Goode of Marshall, TX ; sister-in-law Judy Ford and husband Vic Ford of Linden, TX, and several nieces, and numerous great nephews and nieces; as well as many friends and neighbors. She was preceded in death by her husband Tommy Weems, and her parents. She will be greatly missed by all who knew her.
Celuda and Tommy will be laid to rest in Colonial Gardens with a private family service at a later date.